Let's talk about squash. (And my husband just stopped reading this post...)
Anyway, there are several health benefits of squash including anti-inflammatory and cardiovascular benefits and as well as the provision of antioxidents not usually found in your daily diet. Plus, squash is just a warm, comforting food during the fall and winter months. I'm always looking for new ways to prepare it, so I thought I'd share with you some of the recipes that I've used.
Spaghetti Squash:
I
just
made spaghetti squash for the first time last week. Everyone always talks about how spaghetti squash can replace noodles in some types of pasta dishes to make the dish low carb. My thoughts: noodles are noodles. Squash is squash. Separate but equal in their own respects.
I made Sausage, Kale, and Spaghetti Squash boats by
Paleo Grubs.
I liked it, but I didn't love it. Honestly, the parts I liked were the sausage, kale, and pine nuts! I think I was expecting the spaghetti squash to have more of a nuttier flavor, but spaghetti squash itself doesn't have much of a flavor. I can see why many recipes top it with marinara because it just needs a little kick.
I'll probably make this again, but I'll probably also search for other ways to serve spaghetti squash.
Acorn Squash:
This
was the first squash recipe I made. The only changes I made were omitting the coriander seed and using regular sausage. It's actually one of the quickest and easiest ways that I've found to prepare squash. This recipe tastes like fall!
After Carter was born, we had a friend bring us acorn squash stuffed with with broccoli cheese rice, cranberries, and walnuts. There are probably several different variations you could do along those lines, just depending on what your family likes.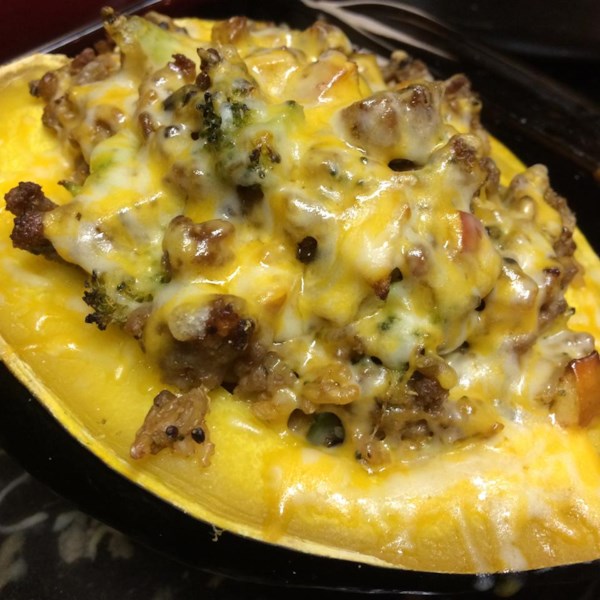 Butternut Squash:
Butternut squash is the richest, sweetest, and nuttiest of the squashes I've tried. It's also the biggest pain to prepare! Peeling, scooping out the guts, cubing, roasting and
then
it's finally recipe-ready--much easier to pay the extra money and buy it already cubed!
My hands-down favorite butternut squash recipe is
Butternut Squash Alfredo Baked Shells
from Gimme Some Oven. It is out-of-this-world good. It's also a bit time-consuming to prepare, but so worth it! The last time I made this, I ate the leftovers for breakfast the next morning because I couldn't wait for lunch!
So there you have it. Three ways to prepare three different types of squash. Any other great ways to prepare squash that I should know about?